Ganaraska Fishway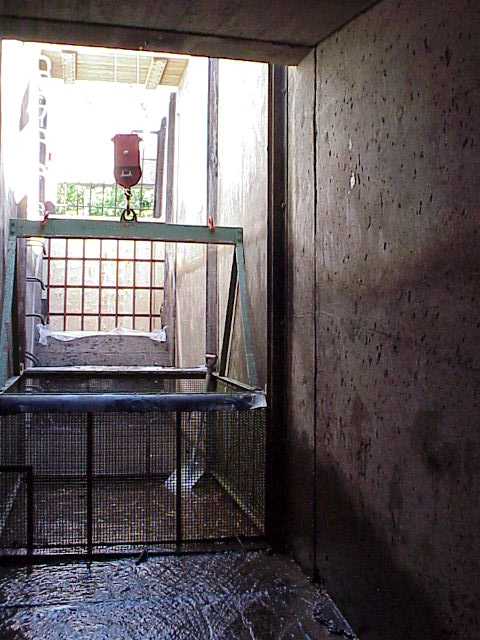 <!-Last Updated Date Here--> Last Updated Nov 15th 2004 @ 8am
<!-Last Updated Date Here-->
ACTIVITY HAS SLOWED RIGHT DOWN AT THE LADDER. FISHING HAS BEEN EXCELLENT THIS YEAR BOTH ABOVE AND BELOW THE LADDER. STAY TUNED FOR SPRING RUN DETAILS
Total Fish Transferred to date: <!-Change Fish Here--> 4345 (final count 2003) <!-Change hr fish here-->
Water Temperature (°C): TBC <!-Change Temperature Here--> <!-Change Temperature Here-->
Total Fish Transferred Last Year: TBC
Largest Fish: (lbs): <!-Change Largest Fish Here--> 18.75 <!-Change Largest Fish Here-->
The GRCA Website is providing RAINBOW TROUT numbers for the fishladder on thier homepage


THE GANARASKA FISHWAY
The Ganaraska Fishway has been in operation since 1974. Prior to its construction, the Corbett Dam prevented the migratory fish from completing their annual journey to the upper waters of the Ganaraska River. This fishway now permits trout access to the superb spawning beds upstream. The fishway also acts as an excellent means of evaluating the populations of rainbow and brown trout found in Lake Ontario. For more pictures or a virtual tour of the fishway, click here.


WHAT IS IT AND HOW DOES IT WORK?
A fishway can be made in many ways. The Ganaraska Fishway is a pool and weir style consisting of a concrete channel ninety feet long and five feet wide. Baffles divide the area into nine pools each of which is about one foot higher than the former. The water flows from pool to pool. The fish negotiate each jump or level at their leisure until they have cleared the dam; approximately twelve feet altogether.
The fish are attracted to the tunnel by the fast flowing water. The trout can easily manage the steep, initial jump although coarse fish such as carp and suckers become discouraged. Likewise, sea lampreys have the ability to swim up the strong current leading to the tunnel but these parasites are prohibited entrance into the tunnel by a steel plate which they can not climb over. The carefully constructed design of the fishway purposely selects the preferred or desired species access to the upstream of the Ganaraska River.
The fishway is used practically year round although the most popular times are the spring and fall and this is explained by the spawning times for the species. Rainbow trout spawn in the spring. Their eggs are laid in gravel and they stay there for a very short time. After the fish are born the young stay in the streams from one to four years. After such a time, they enter the large lakes. The brown trout and pacific salmon species (coho and chinook) however spawn in the fall. The eggs develop over the winter while they are in the gravel and in the spring when the young arrive, they go to the lake quickly. Operations at the fishway generally focuses upon the rainbow trout.
The Fishway is made possible by a joint venture between the Ontario Ministry of Natural Resources, the Ganaraska River Conservation Authority, OFAH, Ganaraska Sportsmen Association and many volunteers from Port Hope and the surrounding area.



HOW IT WORKS Poster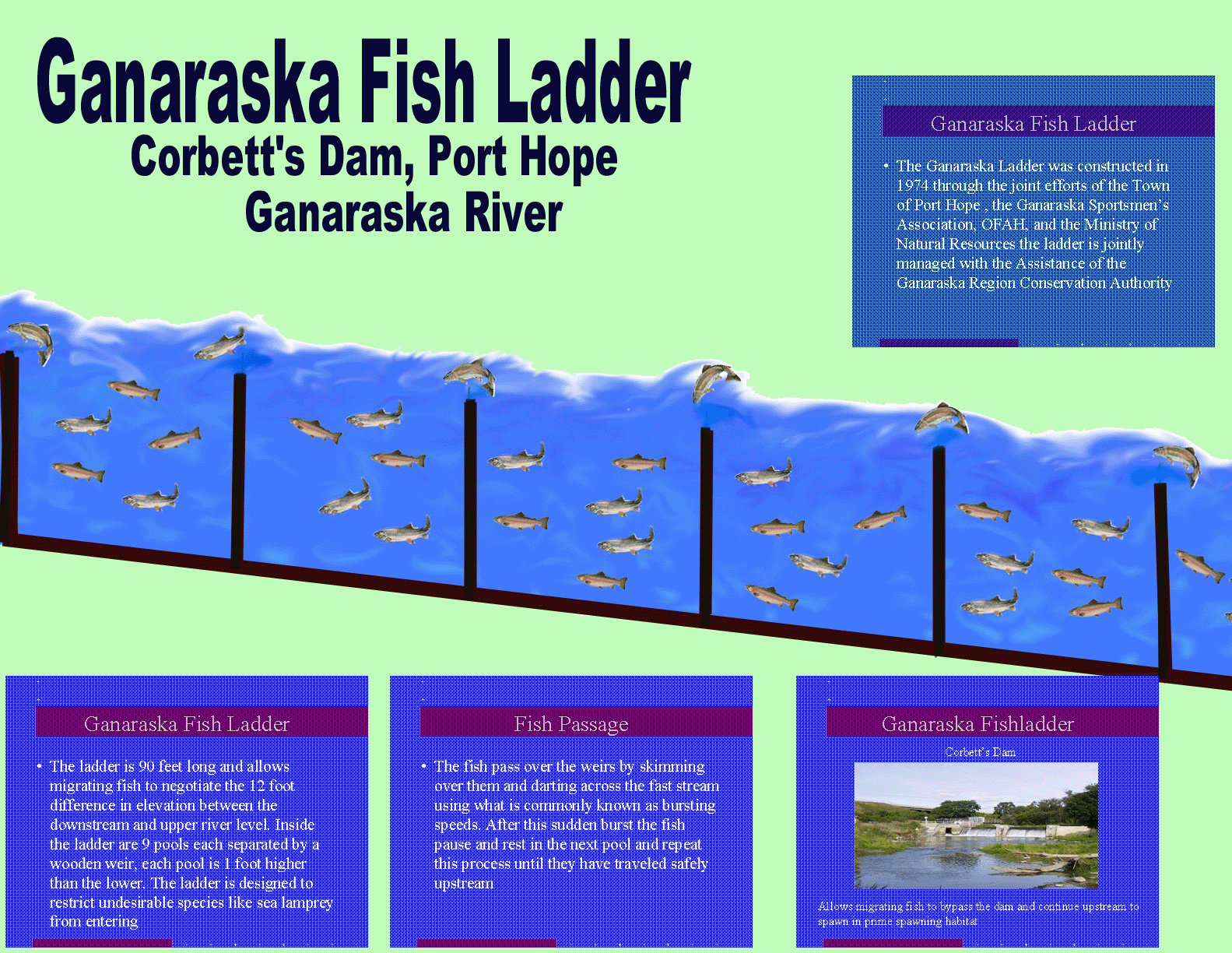 (right click image and 'save as' to download full .jpg version)
1.2Mb
WHERE IS IT?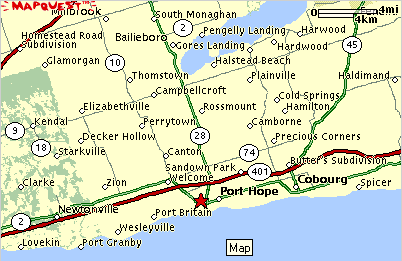 Exit Hwy# 401 on Hwy #28 South. Proceed to Jocelyn Street. Parking on either side of the Ganaraska. Fish operations on West Side.
HISTORICAL DATA
(year - # fish)
1983- 7907
1984- 1994
1985- 14188
1986- - N/A
1987 - 13144
1988 - 15154
1989 - 18169
1990 - 14888
1991 - 13804
1992 - no rec
1993- 8860
1994 - 7749
1995- 9296
1996 - 9454
1997 - 8768
1998 - 5288
1999 - 6442
2000 - 4050
2001 - 5550
2002 -
2003 -
2004 -
GANARASKA FISH COUNTER
The fish counter consists of two main operating parts
1. The central processing unit or recording unit, which records data and is placed in the operations shed at the fishway. This unit is connected to the second part which is ?
2. The outside tunnels or "channels" as we refer to them. These are placed within the fishway and lowered into the water this is the operating part of the counter and detects fish movement.

The channel banks consist of 5 operating channels these are 4 recording channels and one reference channel which does not allow fish to pass through. Each of these channels contains three "electrode rings" the center ring is driven by an alternating voltage signal. The current flow between the center electrode and the outer electrode causes a voltage. The voltage of the counting channel is compared to the "reference channel". The counter "counts" fish by comparing the conductivity of the reference channel to the conductivity of the counting channel. If the conductivity of the counting channel is greater than the conductivity of the reference channel than the assumption is made that a fish is being detected. Decrease in conductivity caused by debris or air bubbles is ignored. Within the channels the copper electrodes in our counter are approximately 40 cm. apart and form bands around each individual channel.

The counter is a "bi-directional" one, that is it records fish movement up or down stream. The sequence of events that must occur before a fish is counted is as follows.

1. For an upstream count
(a) fish is detected only by downstream electrode
(b) fish is detected by both electrodes
(c) fish is detected only by upstream electrode
(d) Fish is no longer detected - upstream count registered.

2. For a downstream count sequence is reversed
Only fish that are large enough to be detected by both electrodes simultaneously are recorded. A fish shorter than 40 cm. would not be recorded. Earlier counts in the early 1980's were adjusted with a factor to compensate for smaller fish . We no longer apply the factor we report only those fish that actually are recorded.





ASK A QUESTION OR MAKE A COMMENT HERE

For a virtual tour or pictures of the Fishladder, Click Here.

Sign Guestbook View Guestbook




MNR | GRCA | NORTHUMBERLAND COUNTY | OFAH | LINKS